Are you ready for the epic journey of Maplestory M, where a character can teleport themselves, jump, climb and fight a monster to clear all levels?
Discover The Best Step By Step Maplestory M Hack Guide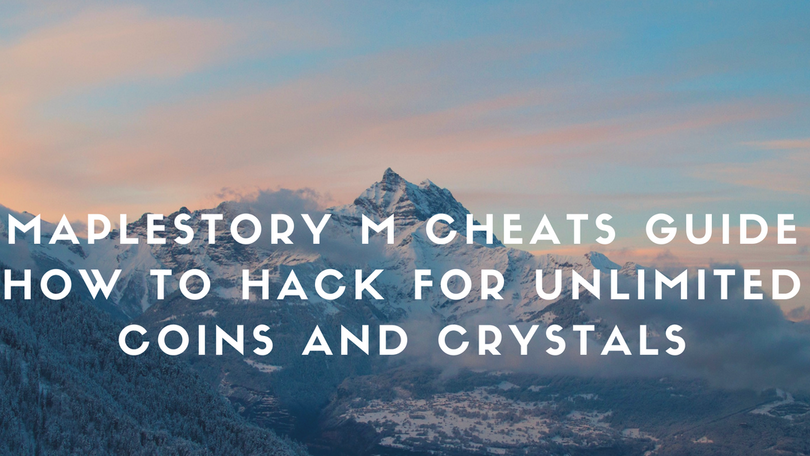 Maplestory M game for Smartphone is developed by Nexon company, which is known for making MMORPG type games. You can team up or play solo to explore the Maple world and kill all monster to bring justice to the world.
Based on 2D style gameplay where you will find many game items like portion, HP, mana to the additional skill set to improve your character stats. You will find pets to accompany you in your mission.
You will have many missions and have to raid dungeons to kill all monsters and enemy. You will get many rewards for your endeavor and skill sets. All and all this game is action pack MMORPG which require skills and concentration to clear all levels.
So, are you ready for the breathtaking epic adventure of Maplestory M where monster and enemy are waiting to get killed?
Maplestory M Characters
You have to choose between five character at the beginning of the story. All the five characters with their corresponding characteristic is given below:
Bishop
Night Lord
Dark Lord
Corsair
Bow Master
Bishop in Maplestory M Game
Bishop has some special abilities call teleport; you can use this character when you fight against some powerful monster. Teleport to a different location to avoid attack from powerful creature is the main advantage of using this character.
Bishop doesn't consume potion to recover its energy known as HP or Mana. You can use this character as this will give you fighting edge in every war.
Night Lord in Maplestory M Game
Night lord has great moving power; it has lighting speed with which it strikes its enemy. You can use this character whenever you find to run away from the enemy or to surprise him with speed and strike. It requires potions to recover mana and HP.
Dark Lord in Maplestory M Game
If you want to play with one character which is good in defense, then you can rely on the Dark Lord for that. Dark Lord defense and HP is bigger than any other character, and you can use a various skill like double jump and leap skill to dodge the enemy. You can also increase its passive skill to take on damage.
Corsair in Maplestory M Game
This character uses a gun to attack enemy and monster. You can use this character when you need to attack the enemy from a long distance. It uses a portion to recover mana and HP.
Bow Master in Maplestory M Game
As the name suggests, Bow Master uses an archer to kill enemy and monster. You can use this character to attack the enemy from a distance. It needs a portion to recover mana or HP, and its defense is not as good as compare to other characters.
Maplestory M Tips and Tricks
Tip 1# Stay Sharp to see all obstacles
This game is Mario style 2D game so, you will see any obstacles coming in your way from far enough. Stay alert and calculate the risk involve in overcoming the obstacles and start moving ahead. You can check various escape route if you do not want to engage the powerful enemy from the beginning. Lear various skill to evade or attack enemy like climbing ropes, teleporting, jumping around, killing the monster, etc.
Tip 2 # Consume portion to stay alive
Use portion to increase your HP or mana, and to keep alive in the game. You need to stay alive in the game to increase your level and get extra skill points. Consumer portion when you think it is necessary to stay alive. You will get many goodies in your endeavor, in that you will also get a portion. Use them judiciously to stay alive in the game and finish the level.
Tip 3 # Do not forget to login daily for rewards
Every game needsa loyal player,and they tend to give rewards for daily log-in. If you are playing Maplestory M game, then make a habit of login daily to get awesome gifts. You can receive Mesos, VIP teleport Rocks, weapons and potion when your login daily.
You can also receive draw tickets, using that you may receive rare game items.
Tip 4 # Complete Quest to get rewards
Whenever you complete any quest or levels you receive game items, some of the rewards are given below
Game currency Mesos
Experience points Exp
HP Potion
Teleport
Weapons
Refining Powder choice box
Gold leaves
There are many missions if you complete those you are eligible for a special reward. Apart fromthat, you will also receive achievements like if you reach level 15, you will be rewarded with 100,000 Mesos.
Tip 5 # increase your Stat by Dungeon Raids
There are three type of dungeon raids
Daily dungeon raids
Mini-dungeon raids
Elite dungeon raids
Always pay attention to these types of small events and try to complete these events to get rewards. You can increase your character stats by taking part in these small missions. You will be awarded jewels which are used to increase your game character stats.
You can co-op raids with your friends to get more rewards likethe game progress.
Tip 6 # Get Crystal by completing the mission
One of the big hurdles of the game isfinding crystal; it is very hard to get crystal in the game. You will get some of them when you finish some advance quest in level 20. Crystal is the main items by using that; you can purchase anything in the game. You can buy a special package, weapon box, chests, teleport VIP tickets and many more. You can also use crystal for buying pets which will help you in completing your mission.
Get Unlimited Crystals and Gold
8H452vFleyXvbrT – Mesos
Km87RbigpRB345 – Skill points
98Rwbo34MndgO- legendary equipment
87fbRBe23Hke87- advanced treasure box
Erbo873b35UTye- pet
A4680goeTR63ljv- Crystals gems
87HGvag459Gbeg- Jewels for games
Tbcyu34BwnerRong- Level up in the game
Fq34ngm50Pldege342- Free tickets
RzvI893vghipwRdg- Free Vip Pack
Maplestory M Cheats Guide How to Hack For Unlimited Coins And Crystals
by
admin